Here at Breakfast Republic we are doing our part in being environmentally friendly.
We are now using several products to reduce, reuse, and recycle!
Swapping Plastic Straws with Metal Straws
Reusable metal straws will now be used, washed, and sanitized for use over and over again. Creating no further plastic pollution to our environment. We're excited for you to "suck on this" instead!

Biodegradable Cups Made From PLA
What's PLA you might ask? PLA is polylactic acid which is made from corn starch. This plastic like material is made from renewable resources and is compostable. It's pretty cluckin' awesome!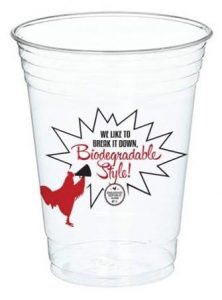 Regular plastic is made from petroleum while PLA is made from corn based resins which makes our cups non-toxic and annually renewable resources. PLA is very environmentally friendly material since it is made from renewable resource – corn. Plastics products may take up to thousand years to compost while PLA products compost within 3-6 months in a composting system.

All of our to-go products are also biodegradable! To-go straws, containers, and utensils are plant-based biodegradable products. Our overall goal is to lower unnecessary waste in all aspects of our restaurants and will only offer straws and to-go utensils upon request!

Reports have shown that over 35 million tons of food waste is sent to landfills each year. That wasted food accounts for almost 25% of U.S. methane emissions. Methane is a powerful greenhouse gas that is 21 times more harmful to the environment than CO2.
To do our part, Breakfast Republic has joined with Resource Management Group, a local recycling/composting company, to institute a food waste composting program, which captures all food waste from our restaurants.  The waste is then either fed to livestock, or composted at a facility in San Diego.  This successful program has resulted in us sending over two tons of food waste to compost in the first month alone!
For more information about food waste composting through RMG,
visit their website.